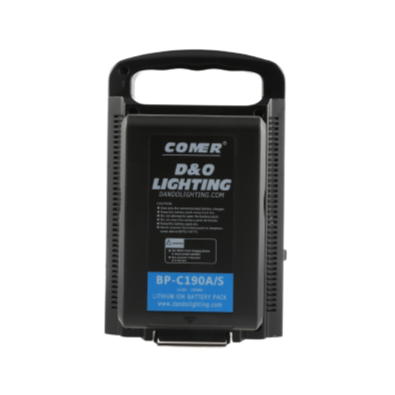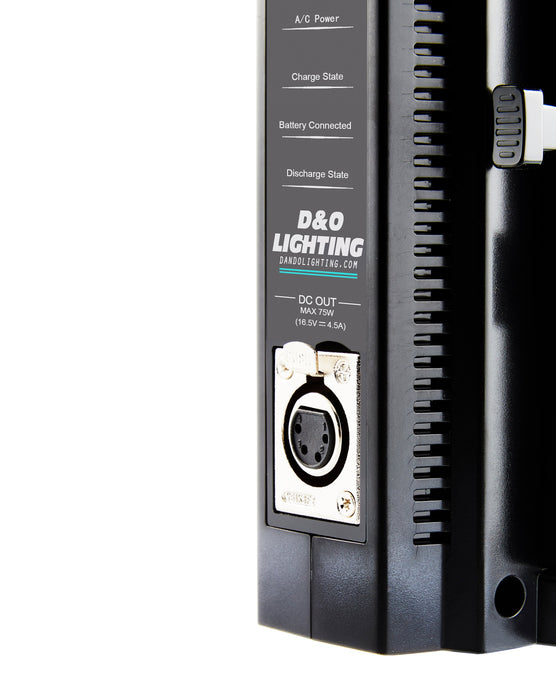 Two 190Wh V Mount Batteries & Power Station Bundle
Please give us 3-5 business days to ship your product
Highlights
Supports up to a 10 Amp Continuous Draw
Supports charging via D-Tap
Premium Samsung Li-Ion Cells
Color: Black
Battery Details
Our D&O Lighting V Mount lithium-ion power supply systems are an unbeatable value when it comes to efficiency and cost for high capacity V Mount camera batteries, and this 190wh lithium-ion battery is no exception!
The lightweight design is compatible with Sony V Mount devices and is specially made to power professional broadcasts and contemporary digital productions.
This workhorse comes with a super-long-lasting (190 watt hour) lithium ion core, zero memory effect, and built-in protection circuitry that prevents the battery from over-charging, over-voltage, and over-current...ensuring safety and a lasting life for this battery!
Battery Specifications
Voltage: 14.8V 
Limit: 12800mAh/190WH 
Measurements (IN): 5.8" (D) x 3.8" (W) x 3.3" (H) 
Weight: 3.0lbs/1.40kg 
Working temperature: - 22F to ~+130F or - 30 to ~+55℃ 
A charge will last roughly 6-8 hours depending on camera or light type; ~500 charges over the life of the battery
Perfect with ARRI Alexa Minicamera, Standard Cameras EOS C100/C300/C500/5D/7D/60D, AJA CION Camera Body, Blackmagic Plan URSA camera, Sony PMW-EX3, Sony F5 F55, Cine Alta Cameras.
Not compatible with IDX or SWIT V Mount Adapters
Charger Details
Our D&O Lighting V Mount dual channel power supply system is perfect for buyers of Sony V Mount batteries looking for premium value at a reduced cost. This system doubles as a power supply to your camcorder via 4 pin XLR output cable and charger for two V Mount batteries simultaneously.
Charger Specifications
Input: AC 100-240V, 50-60Hz
Output: 16.8V
Charge Current: 2A x 2
Operating Temperature: 0~40ºC (32~104ºF)
Operating Ambient Humidity 20%-90%RH
Product Dimensions: 5.5 x 4 x 8.85" (141 x 100 x 225mm)
Product Weight: 3.3lb (1.5 kg)
Included in Package
Dual V-Mount Charger
AC Power Cable 

(US Plug)

2 x 190Wh V-Mount Battery
One-Year Warranty
D&O Lighting warrants its products against defects from manufactured materials for a period of one (1) year. During this period, D&O Lighting will repair or replace a defective unit without charge to the customer for manufacturing-related defects. The warranty does not cover replacement or repair of units that are defective as a result of the customer's mishandling or mistreatment leading to product's damage. Warranty becomes void after one (1) year after purchase date. Our one (1) year Warranty is not transferable, and not renewable. Customer agrees that warranty comes as part of the purchase and can not be extended for any reason beyond one (1) year from purchase date.
HORRIBLE
THE CUSTOMER SERVICE AT THIS COMPANY IS PLACE IS RIDICULOUS. I ORDER A PRODUCT AND NEVER RECEIVED WHAT I PURCHASED. I AM IN THE PROCESS OF TAKING THIS ISSUE TO THE NEXT LEVEL. PLEASE DO NOT USE THIS COMPANY!!!!!!!!
This order was actually ordered & shipped via Amazon logistics, but they messed up the order & he never got his charger. So we have initiated a refund & he will get all his money back.
Two 190Wh V Mount Batteries & Power Station Bundle