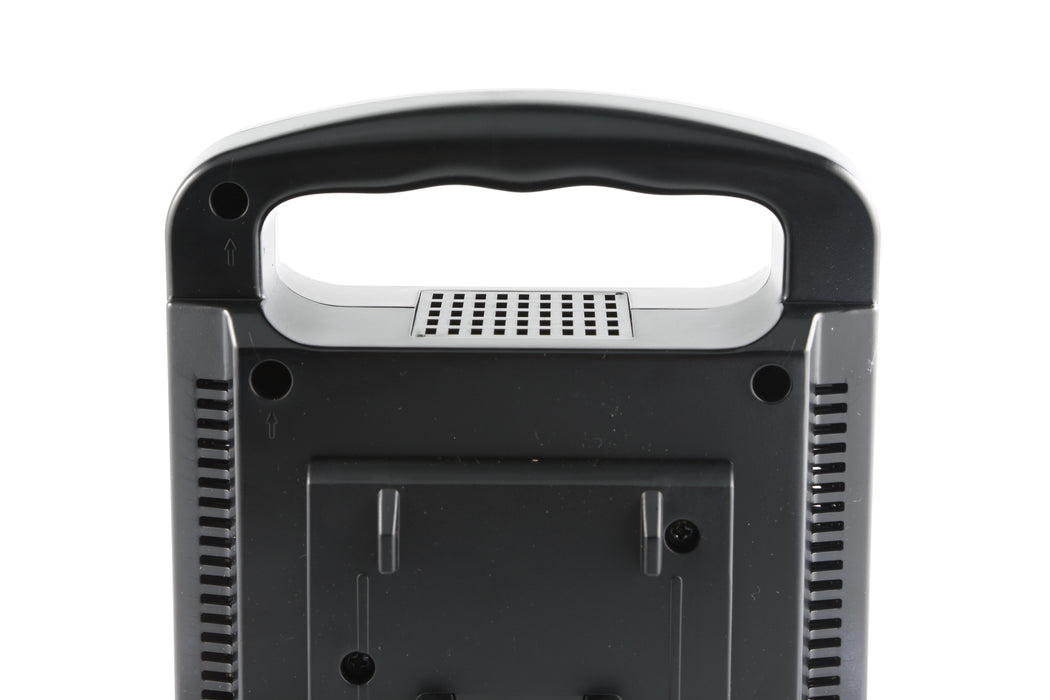 Two 95Wh V Mount Batteries & Power Station Bundle
Please give us 3-5 business days to ship your product
Highlights
Supports up to a 6 Amp Continuous Draw
Supports charging via D-Tap
Premium Samsung Li-Ion Cells
Color: Black
Battery Details
Our D&O Lighting V Mount lithium-ion power supply systems are an unbeatable value when it comes to efficiency and cost for high capacity V Mount camera batteries, and this 95wh lithium-ion battery is no exception!
The lightweight design is compatible with Sony V Mount devices and is specially made to power professional broadcasts and contemporary digital productions.
This workhorse comes with a super-long-lasting (95 watt hour) lithium ion core, zero memory effect, and built-in protection circuitry that prevents the battery from over-charging, over-voltage, and over-current...ensuring safety and a lasting life for this battery!
Battery Specifications
Nominal Voltage: 14.8V
Capacity: 6600mAh/ 95WH
Dimensions (IN): 5.8" (D) x 3.8" (W) x 3.3" (H)
Weight: 2.0 lbs / 0.93kg
Color: Black
Operating temperature: -22F to ~+130F or -30 to ~+55℃
A Single charge lasts 6-8 hours; ~500 charges over the life of the battery
Compatible with ARRI Alexa Minicamera, Canon Cameras EOS C100/C300/C500/5D/7D/60D, AJA CION Camera Body, Blackmagic Design URSA camera, Sony PMW-EX3, Sony F5 F55, Cine Alta Cameras and more
Not compatible with IDX or SWIT V Mount Adapters
Charger Details
Our D&O Lighting V Mount dual channel power supply system is perfect for buyers of Sony V-Mount batteries looking for premium value at a reduced cost. This system doubles as a power supply to your camcorder via 4 pin XLR output cable and charger for two V Mount batteries simultaneously.
Charger Specifications
Input: AC 100-240V, 50-60Hz 
Output: 16.8V 
Charge Current: 2A x 2
Operating Temperature: 0~40ºC (32~104ºF)
Operating Ambient Humidity 20%-90%RH
Product Dimensions: 5.5

 

x 4 x 8.85" (141 x 100 x 225 mm ) 
Product Weight: 3.3lb (1.5 kg)
Included in Package
Dual V-Mount Charger
AC Power Cable 

(US Plug)

2 x 95Wh V Mount Battery
One-Year Warranty
D&O Lighting warrants its products against defects from manufactured materials for a period of one (1) year. During this period, D&O Lighting will repair or replace a defective unit without charge to the customer for manufacturing-related defects. The warranty does not cover replacement or repair of units that are defective as a result of the customer's mishandling or mistreatment leading to product's damage. Warranty becomes void after one (1) year after purchase date. Our one (1) year Warranty is not transferable, and not renewable. Customer agrees that warranty comes as part of the purchase and can not be extended for any reason beyond one (1) year from purchase date.
Does not advise if out of stock
I ordered this - waited and waited with no notification that it was out of stock, no communication informing me that they're waiting for it to come into stock. I had to email them twice to reply two days later with a less than satisfactory solution. Either They will send me the block and cable charger, reimburse me $60, or refund my entire order. Block charger $90 + $60 does not equal the original $345USD order I placed. "Here's a product that's significantly less in cost and only a partial refund?"
Also - a complete waste of my time dealing with all of this - writing this review hoping that the company improves their customer service or buyer be warned.
We apologize for your waiting for the Dual V Mount battery charger, it won't be in stock for at least until the first week in March due to delays in shipping from Covid-19, Chinese New Year (most factories & shipping partners are not working at all until 2/7), & already backed up shipping services.
For the record, we have fully refunded the cost of your entire package, and you will get your payout in 3-5 business days from the day it was refunded.
Regards,
Colin
Thank you. Your D&O lighting Two 95Wh v mount batteries and power station bundle is good. I orde...
Thank you. Your D&O lighting Two 95Wh v mount batteries and power station bundle is good. I order for my sister. However, I forgot, how much I paid for you. Please, can you tell me, how mich I paid for you
GOOD PRODUCT. COMMUNICATION (NOT SO MUCH)
The buying aspect was easy and I may buy again. I thought everything would have come in one box but instead came in three. We received the batteries first, great!! But when we didn't get the charger I called, emailed, Facebook them and not an answer from them at all. Maybe 3-4 days later the charger shows up. So my experience is 50/50. Seems to be a good battery set - we're currently using them but again communication/customer service with them is non-existent. Good luck.
Sometimes our products are shipped in separate packages. We apologize for the lack of communication and are working internally to remedy this issue moving forward. -D&O Team