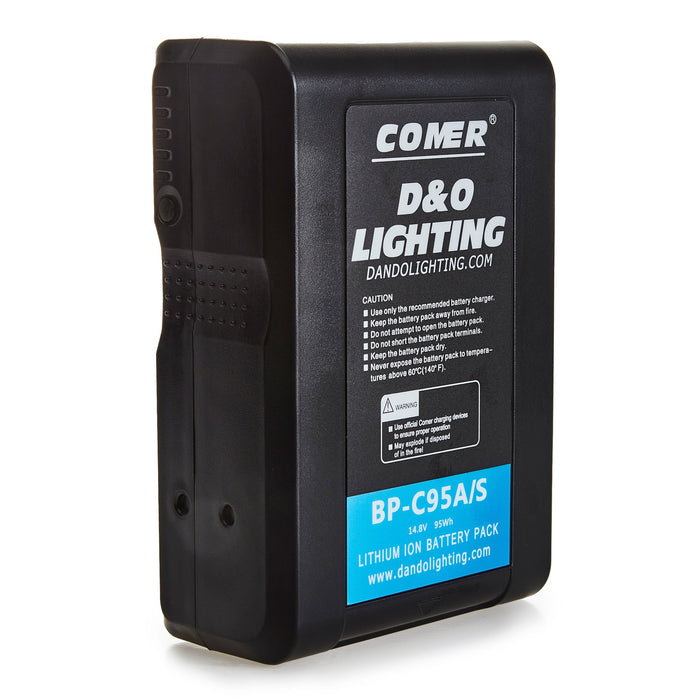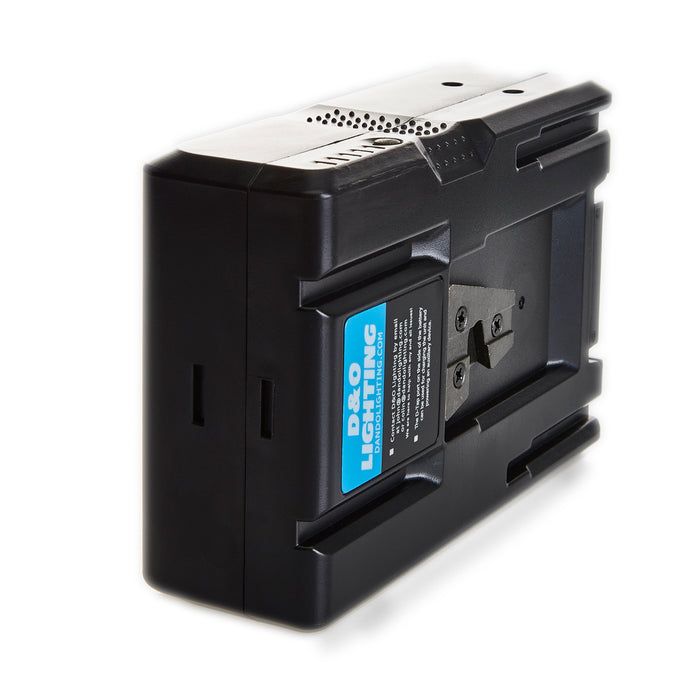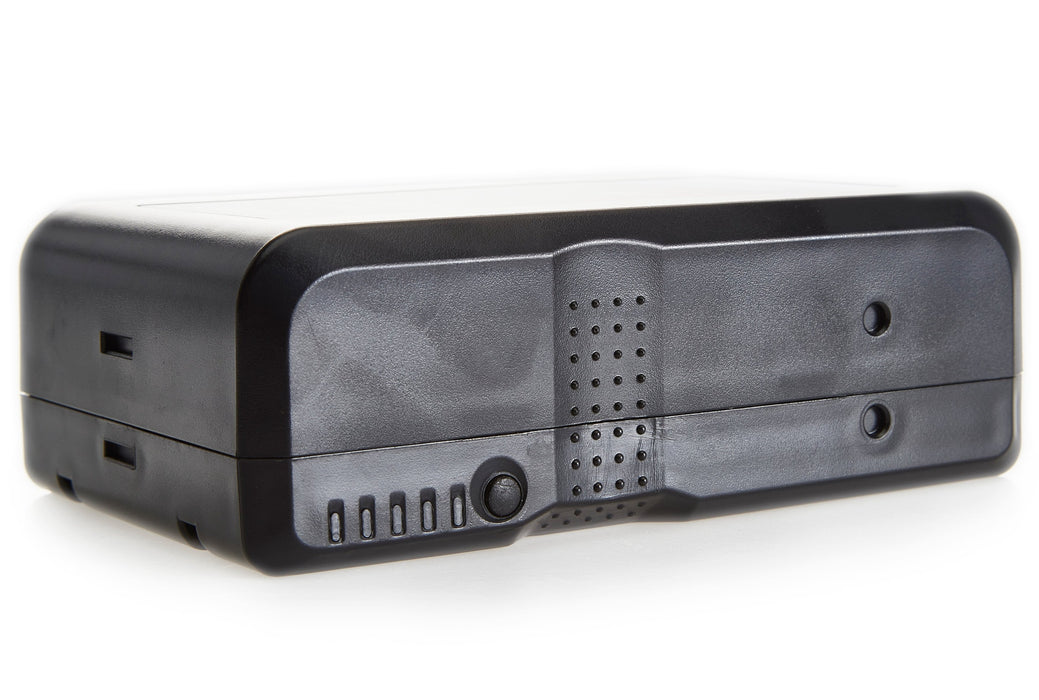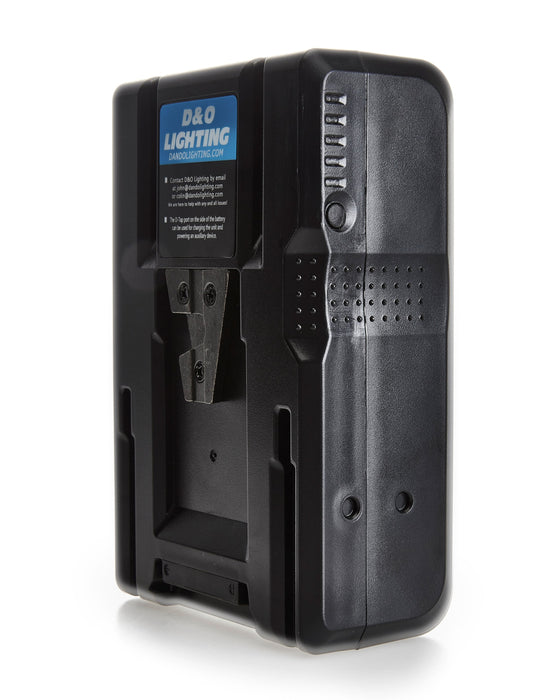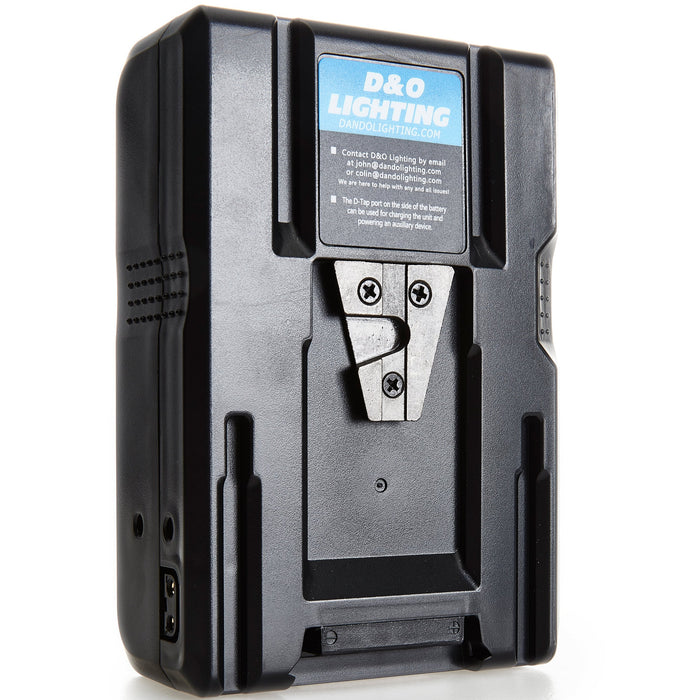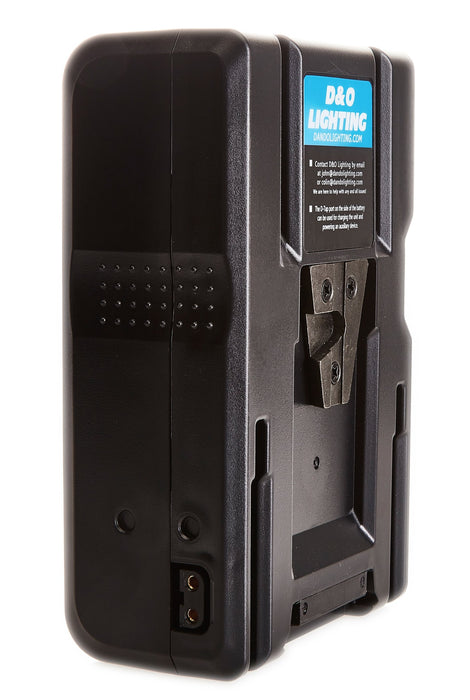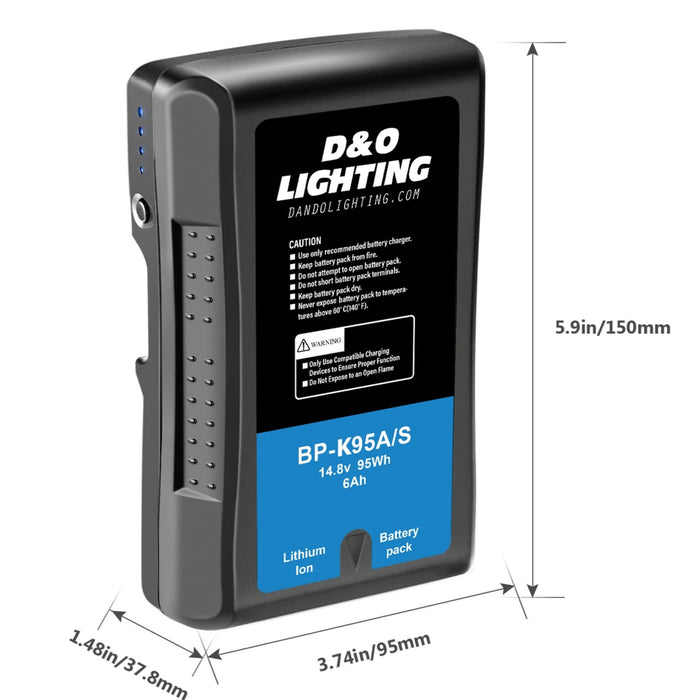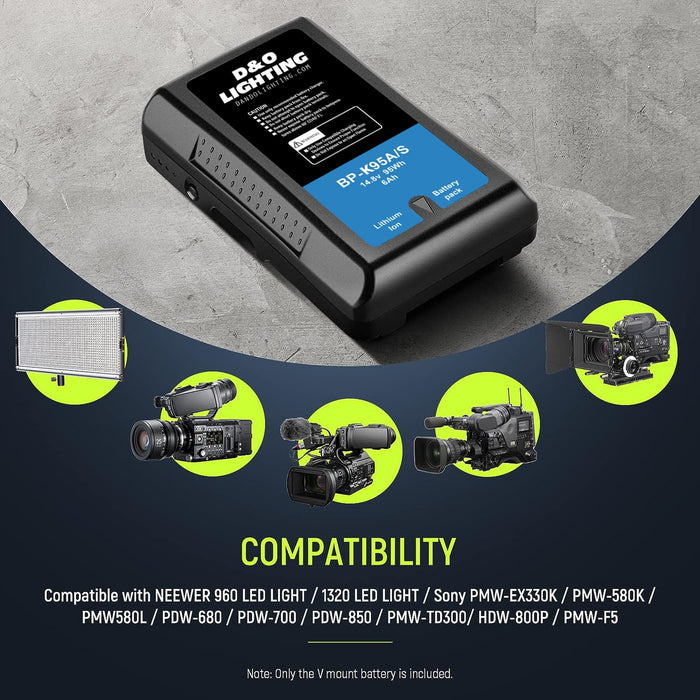 Please give us 3-5 business days to ship your product
Highlights
Supports up to a 6 Amp Continuous Draw
Supports charging via D-Tap
Premium Samsung Li-Ion Cells
Color: Black
Battery Details
Our D&O Lighting V Mount lithium ion power supply systems are an unbeatable value when it comes to efficiency and cost for high capacity V-Mount camera batteries, and this 95wh lithium-ion battery is no exception!
The lightweight design is compatible with Sony V Mount devices and is specially made to power professional broadcasts and contemporary digital productions.
This workhorse comes with a super-long-lasting (95 watt hour) lithium ion core, zero memory effect, and built-in protection circuitry that prevents the battery from over-charging, over-voltage, and over-current...ensuring safety and a lasting life for this battery!
Specifications
Nominal Voltage: 14.8V
Capacity: 6600mAh/ 95WH
Dimensions (IN): 5.8" (D) x 3.8" (W) x 3.3" (H)
Weight: 2.0 lbs / 0.93kg
Color: Black
Operating temperature: -22F to ~+130F or -30 to ~+55℃
A Single charge lasts 6-8 hours; ~500 charges over the life of the battery
Compatible with ARRI Alexa Minicamera, Canon Cameras EOS C100/C300/C500/5D/7D/60D, AJA CION Camera Body, Blackmagic Design URSA camera, Sony PMW-EX3, Sony F5 F55, Cine Alta Cameras and more
Not compatible with IDX or SWIT V Mount Adapters
Included in Package
One-Year Warranty
D&O Lighting warrants its products against defects from manufactured materials for a period of one (1) year. During this period, D&O Lighting will repair or replace a defective unit without charge to the customer for manufacturing-related defects. The warranty does not cover replacement or repair of units that are defective as a result of the customer's mishandling or mistreatment leading to product's damage. Warranty becomes void after one (1) year after purchase date. Our one (1) year Warranty is not transferable, and not renewable. Customer agrees that warranty comes as part of the purchase and can not be extended for any reason beyond one (1) year from purchase date.
Worked great until it stopped working.
I have been very pleased with my 95W V-mount batteries until suddenly, one of them will not hold a charge. I purchased my battery less than three years ago. I definitely did not charge it 500 times. I have two and don't use them that often. I have not had them in rigorous conditions either. I need at least two as I fully committed to buying the D&O charger, so moving to another brand will be an annoying cost. I am willing to try once more, but I will have to move on to another brand if I lose another one.
My Second D&O Vmount Batteries
Keeping with the same brand. So far it's good and Fair Price.
GREAT BATTERIES!!
I've purchased several 95s from DO and they all do a phenomenal job. I highly recommend them.
The battery is not delivered
The battery is not delivered yet, i don't know what happened but still i don't have it here. If you could do anything to help me, that would be great. If you can't help me, then give my money back, because i feel stolen.
Manuel has since been refunded the entire amount for this shipment. USPS 'lost' the package in transit, or wasn't able to deliver as promised. This product was shipped on time, and we did right by our customer by refunding him the full amount + shipping when we learned it was 'lost' by USPS. -D&O Team
Low Quality Cells
Battery died in in less than 2 years. Contacted e-mails for customer service. No one replied. Bad cells. You get what you pay for.
D&O Lighting has a rigorous quality control system in place for every battery that we sell. We apologize to any customer that has had a bad experience with our batteries. Our one year limited warranty covers our batteries from any manufacturer defects within one year of purchase, and won't apply to batteries that have been put under unusual stress or used with any products they aren't compatible with.