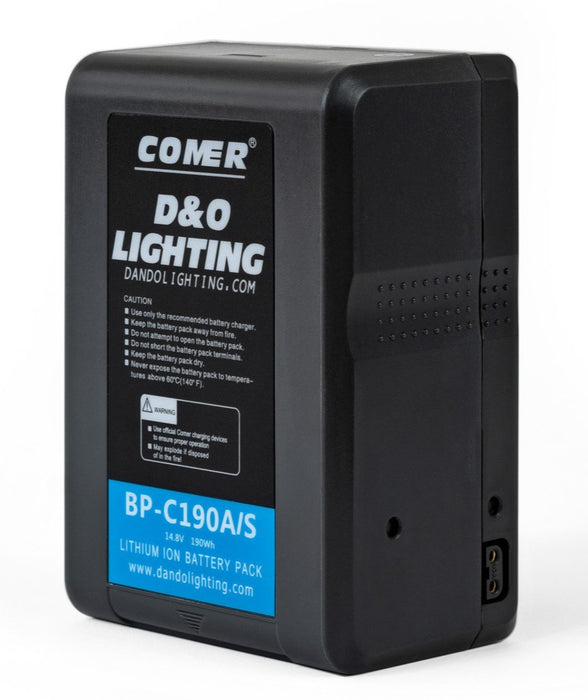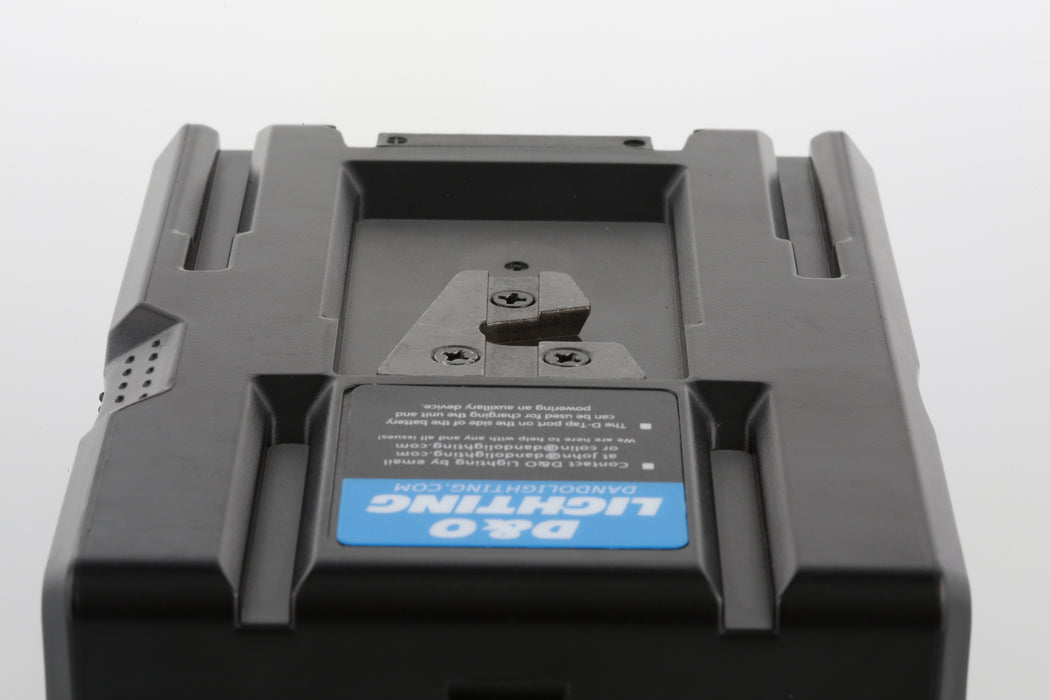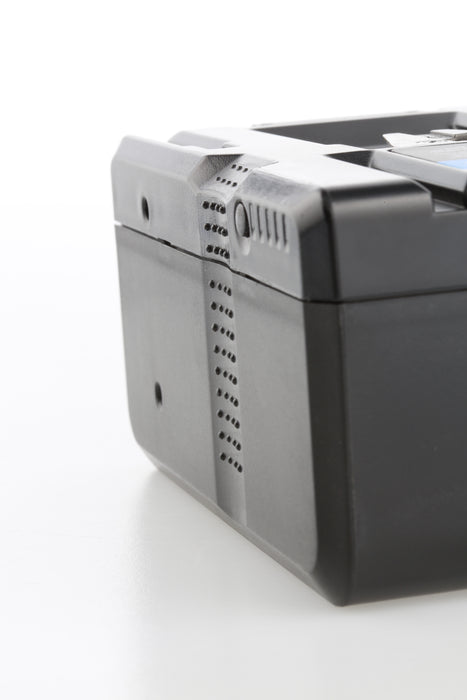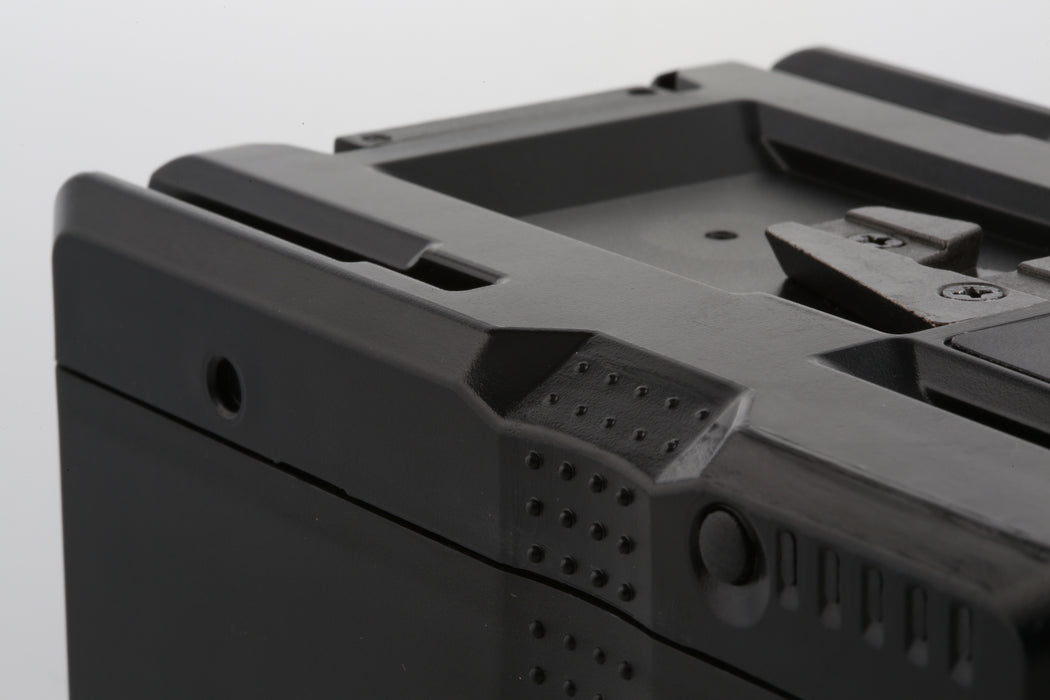 Please give us 3-5 business days to ship your product
Highlights
Supports up to a 10 Amp Continuous Draw
Supports charging via D-Tap
Premium Samsung Li-Ion Cells
Color: Black
Battery Details
Our D&O Lighting V Mount lithium-ion power supply systems are an unbeatable value when it comes to efficiency and cost for high capacity V Mount camera batteries, and this 190wh lithium-ion battery is no exception!
The lightweight design is compatible with Sony V Mount devices and is specially made to power professional broadcasts and contemporary digital productions.
This workhorse comes with a super-long-lasting (190 watt hour) lithium ion core, zero memory effect, and built-in protection circuitry that prevents the battery from over-charging, over-voltage, and over-current...ensuring safety and a lasting life for this battery!
Specifications
Voltage: 14.8V 
Limit: 12800mAh/190WH 
Measurements (IN): 5.8" (D) x 3.8" (W) x 3.3" (H) 
Weight: 3.0lbs/1.40kg 
Working temperature: - 22F to ~+130F or - 30 to ~+55℃ 
A charge will last roughly 6-8 hours depending on camera or light type; ~500 charges over the life of the battery
Perfect with ARRI Alexa Minicamera, Standard Cameras EOS C100/C300/C500/5D/7D/60D, AJA CION Camera Body, Blackmagic Plan URSA camera, Sony PMW-EX3, Sony F5 F55, Cine Alta Cameras.
Not compatible with IDX or SWIT V Mount Adapters
Included in Package
1 x 190Wh V Mount Battery
One-Year Warranty
D&O Lighting warrants its products against defects from manufactured materials for a period of one (1) year. During this period, D&O Lighting will repair or replace a defective unit without charge to the customer for manufacturing-related defects. The warranty does not cover replacement or repair of units that are defective as a result of the customer's mishandling or mistreatment leading to product's damage. Warranty becomes void after one (1) year after purchase date. Our one (1) year Warranty is not transferable, and not renewable. Customer agrees that warranty comes as part of the purchase and can not be extended for any reason beyond one (1) year from purchase date.
Received the wrong battery
D&O Lighting's website showed a picture of the battery's connection points, which is exactly what I needed for my video light, so I ordered it online. D&O was the only vendor that I could find that sold that battery. But I received a different battery with a different connection point, which I cannot use - it doesn't fit my light.
When I reached out to return it and replace it with the correct battery, they responded fast and told me that they don't have the battery I need, they are updating their website to show the correct battery picture, and I should return the battery.
I returned the battery on my own dime, which I shouldn't have because it was not my fault they sent me the wrong item. But this entire situation shouldn't have even happened to begin with. If they knew they don't have the battery I ordered online, the right thing to do would have been to contact me and say, "Sorry we don't have the battery you ordered, we'll notify you when we have it in stock..." and NOT send me a different battery and charge me for it. Now they created an inconvenience and return cost for me.
UPDATE 11/11/22: I was told Nov. 1 via email to return the battery. But I have not receive a prepaid return label until minutes after I left the review above. I guess it was an oversight, it happens. However, I no longer need the label because I returned the battery to D&O Nov 8.
I do appreciate that D&O promptly followed up with me when they saw that I didn't need the return label, and refunded my shipping cost. I give them credit for their customer service and response time.
We have sent Emilia a prepaid return label, & will send a prepaid return label to any customer who isn't 100% satisfied with their D&O Lighting product.
Never received
i've never received my item. i tried reaching out to the company and no response
This battery was shipped on time and with the expedited shipping option. UPS 'lost' the battery in transit. Matthew has since been refunded and we apologize for any inconvenience that was caused to Matthew due to this issue. Unfortunately we can't make UPS do their job correctly, but we can side with our customers if this ever happens in the future. -D&O Team
Michael opted for a full refund and chose to cancel his order before we had a chance to ship it to him. We have since given him a full refund. -D&O Team
Great batteries at a great price!
Bad Customer Support
Bought a battery BP-C95A/S a year and a half ago. Used it few times but it does not work anymore. Tried to reach customer support via messenger, but they just don't reply. Dissapointing...